History Of The Zion Church Of Christ
During World War II there was a migration of people from the South to work in the industrialized North to support the war effort. After World War II many stayed in the industrialized area of North Chicago, Waukegan, Zion, and Winthrop Harbor, Illinois, and Kenosha and Racine, Wisconsin.
Among those relocating north were members of the church of Christ. In 1945 there was not a single active congregation in Lake County, Illinois, or in Kenosha and Racine Counties of Wisconsin. The nearest congregation was in Evanston, Cook County, Illinois.
In 1948 three women, Clarice Lane, Helen Richardson, and Sue Booth began meeting in their homes. Other members were contacted and soon a group of 20 or more began meeting in the basement of Bicket's Drug Store on the corner of 27th Street and Sheridan Road in Zion, Illinois. As the word spread that a group of Christians were meeting in Zion, eventually larger quarters were needed. The group moved to the second floor of the Field building at 2748 Sheridan Road in Zion. With the help of gospel preachers who traveled to Zion, the congregation continued to grow. Of particular help was Charles Campbell who came to Zion to preach several times.
By 1953 the growing congregation needed additional space to accommodate Bible classes and a larger space for worship services. Arrangements were made to rent rooms for Bible classes and the gymnasium for worship services in the YMCA on North County Street in Waukegan, Illinois.
The end of the Korean War in 1953 resulted in the release from active duty of many in the military. Gene Winter, a naval officer stationed at Great Lakes Naval Training Center, was released from active duty and began serving as an evangelist for the congregation that was meeting in Waukegan. To support his wife and family, he worked at the Finance Office at Great Lakes Naval Training Center. Due to his untiring efforts in contacting members in the area, the congregation grew steadily with over 100 attending Sunday morning services at the YMCA.
In 1954 Gene Winter left to return to his home town, and Avon Malone, a recent graduate of Abilene Christian College, with his wife Mary Ann, came to work with the Waukegan congregation. At this time it became apparent that future growth would necessitate a permanent building with more adequate facilities for Bible classes and a more suitable auditorium for worship services. A search for a building site began.
A corner lot at Golf and Jackson Streets on the northwest side of Waukegan was purchased in 1955 and financing for the new building was secured by selling Broadway Plan bonds. The building was completed in May of 1957. In 1958 the Waukegan congregation set a record attendance of 432, exceeding the seating capacity in the new auditorium.
Since approximately half of the Waukegan congregation was from the Zion and Winthrop Harbor area, it was decided to build another facility in Zion, Illinois. A lot was purchased at 2340 Lewis Avenue, and plans for the new building were purchased from Payton Builders in Fort Worth, Texas. In the fall of 1958 the Malones left for another work and two fully supported preachers, Paul Earnhart and Doyle Goodspeed, served the Waukegan congregation during the construction of the Zion building.
The Zion building was completed in 1959, and the first services were held in January 1960 with Paul Earnhart serving as evangelist. After two years Paul and his family went to Nigeria, and Paul Johnson and his family came to Zion to work with the congregation. The Johnsons left after 3 and a half years and Dale Smelser and his family labored in Zion from 1966 to 1973. The Smelsers were followed by Bruce Taylor and his family until 1990. Ed Brand and his wife then spent two years with the congregation. In March 1993 David Padfield, his wife Sharon and their three sons, moved to Zion to work with the congregation and have remained unto the present time.
Our current membership includes Christans from the local area, as well as those who travel a good distance to get here, from places in Illinois like Gurnee, Round Lake, Antioch, Waukegan, Lake Villa, Grayslake, the Great Lakes Naval Base, and Chicago, as well as from cities in Wisconsin, such as Pleasant Prairie, Kenosha, Racine and Milwaukee.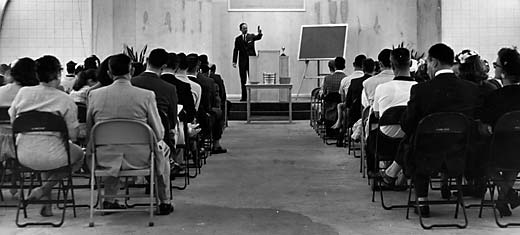 Above: Paul Earnhart preaching at Zion in 1960
Above: The congregation in 1960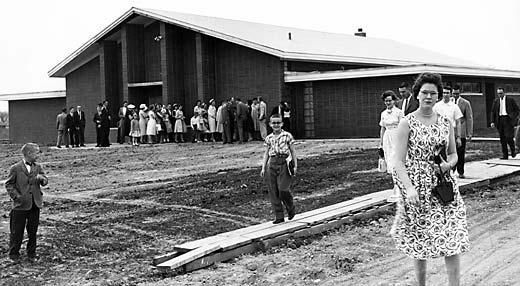 Above: Our meetinghouse when we moved in (1960)